The COVID-19 outbreak is dealing a severe blow to China's economy. Small- and medium-sized enterprises (SMEs) with tiny profit margins are especially bearing the brunt, but the impact is widespread, with the latest data point merely adding to concerns that, despite all the talk that Chinese are returning to work, the Chinese economy remains dead in the water.
As we detailed previously, here is China's daily coal consumption which have barely pushed off the lows, and are roughly 50% where they were a year ago this time.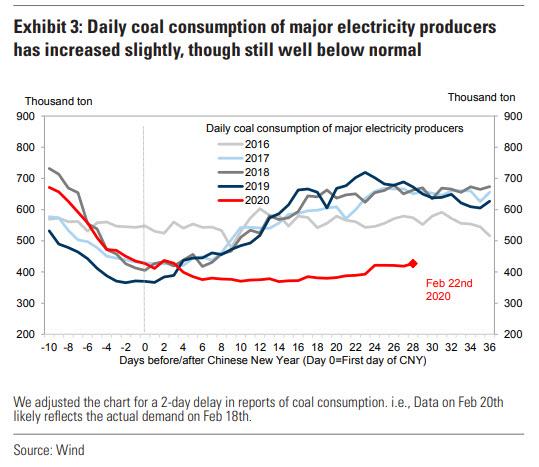 With coal demand in the doldrums, it is also to be expected that coal supply is depressed as well, and indeed coal volumes over the past week remain 25% lower than the past 3 years' average, and roughly 33% below the 2019 level.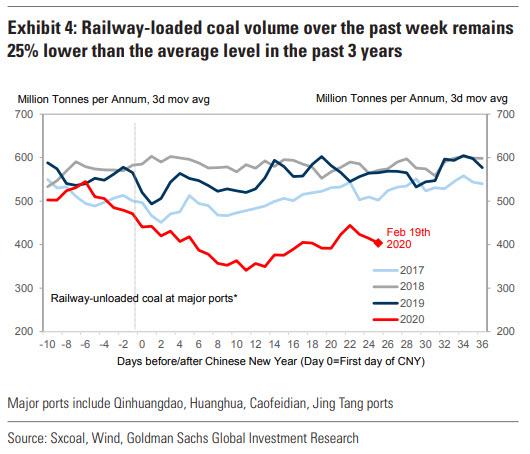 One of the better indicators of real-time commerce, traffic congestion, remains virtually unchanged, and substantially below where it was in previous years.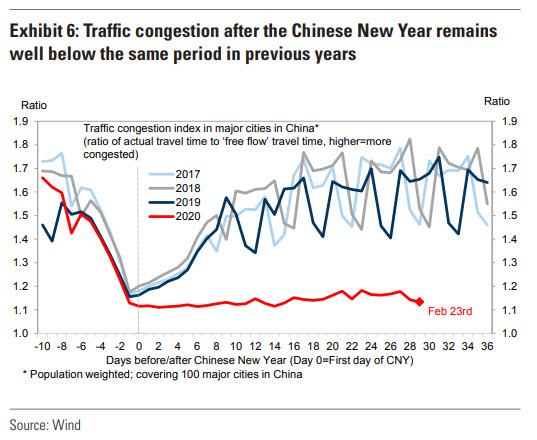 Yet, hilariously, this being China even with no transport, no commerce, and virtually no power plant use, pollution is finally starting to ramp up. One wonders what is causing this if it's not coal demand, or transportation: maybe all those crematoriums working overtime?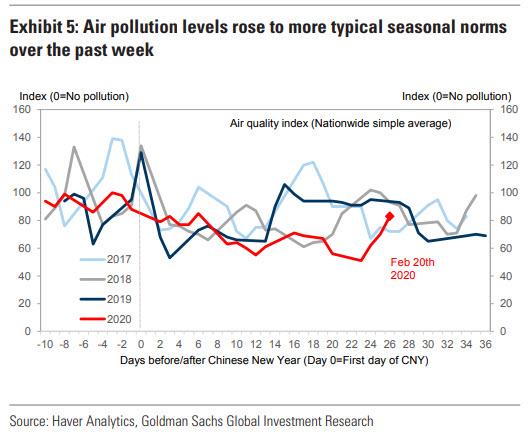 And speaking of not transport, the number of passengers carried after the New Year is barely above 10 million, almost 50 million below last year's levels.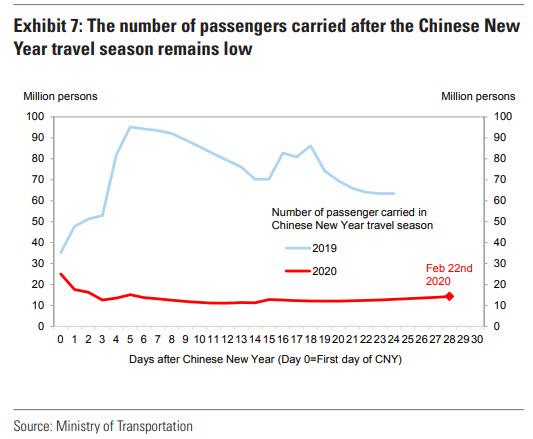 Meanwhile, a brief silver lining in the economy was promptly snuffed out last week, when the property sales volume in 30 major cities crashed back to earth and remains well below 25% of the seasonal norm.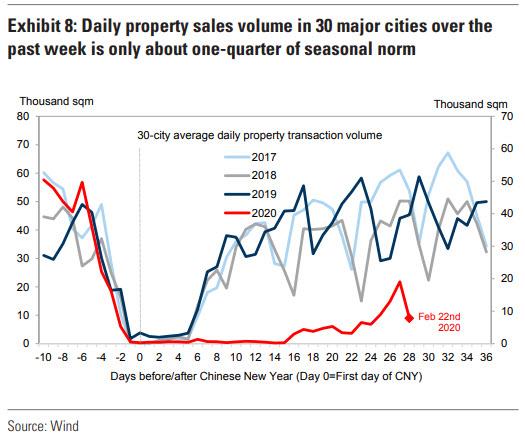 And with no end market demand, it is hardly a surprise that steel demand has continued to crater, and was below half the normal level from the past 3 years, with the most recent data showing full-country apparent steel demand -33% y/y vs -43% y/y last week:
Construction steel -78% y/y (in line with physical steel trading volume)
Flats -16% y/y

Last but not least, and perhaps most ominous of all, the earlier semi-official data print in the form of the February survey on business conditions showed a depression level plunge, with the index crashing more than 18 points, the most on record, to 37.3, which confirms Nomura's expectation of a manufacturing PMI print later this week which may have a 30-handle.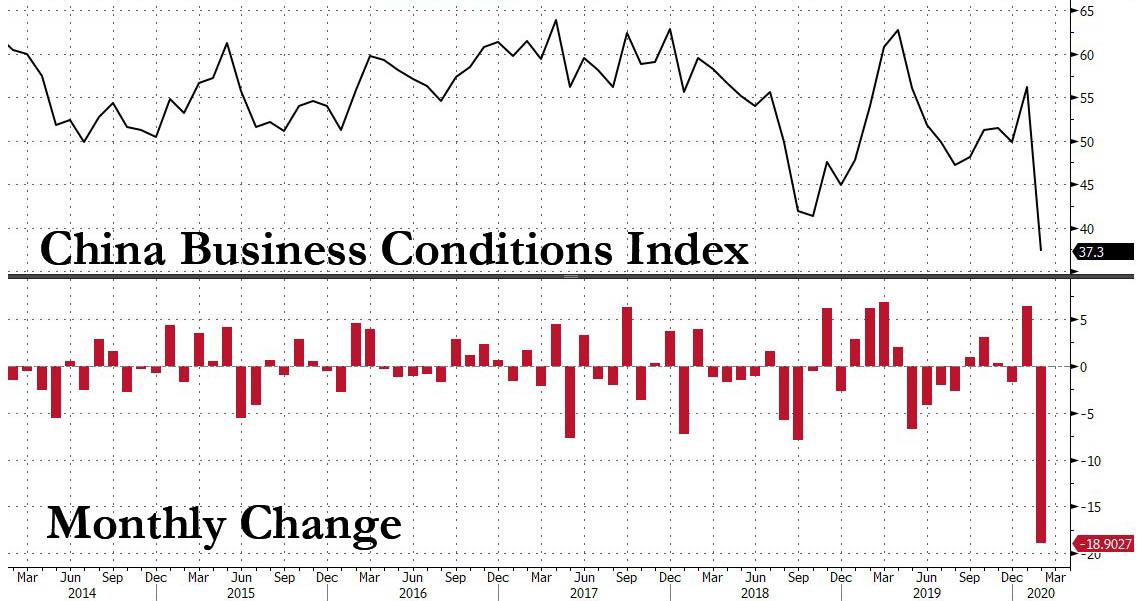 And so it is little wonder that China just went all-in on monetary and fiscal support for the nations' companies, following Mario Draghi's lesson –
"whatever it takes."
As Nomura's Ting Lu details, to cope with this substantial shock, China's State Council on 25 February unveiled a raft of targeted policy measures to support SMEs, especially those in Hubei province, the epicenter of COVID-19 (but, while more measures are coming, Nomura does not see "massive stimulus" as imminent, something we warned about two weeks ago)
This is in line with our view that Beijing is keenly focused on helping SMEs survive the epidemic and pushing for business resumption.
Following the containment of COVID-19, we expect Beijing to taper off these easing measuresin part to tame inflation and other issues amid an expected V-shaped recovery.
We do not expect Beijing to launch a round of significant stimulus packages to boost investment and consumption demand following the epidemic.
Beijing's package to rescue SMEs amid the virus outbreak
Policy measures in the package include targeted liquidity and credit support, targeted tax cuts, targeted cost cuts and rental cuts. Details follow below:
On targeted liquidity support, the PBoC will increase the quota for banks regarding relending and re-discounting by RMB500bn to extend credit to SMEs, following the PBoC's RMB300bn special-purpose relending (with a proportion of interest covered by fiscal subsidies) in early February. It will also lower the interest rate of re-lending designated for agricultural entities and SMEs by 25bp to 2.5% pa. According to the PBoC, as of end-2019, the outstanding amount of re-lending designated for agricultural entities and SMEs was RMB260bn and RMB283bn, respectively.
On targeted credit supply, Beijing encouraged financial institutions to provide a grace period for the virus-hit SMEs, upon application, in repaying the principal and interest of their outstanding loans, with the repayment date postponed to as late as 30 June and penalty interest waived; the policy applies to all companies in Hubei province. Beijing further required state-owned large commercial banks to achieve a 30% y-o-y growth in their outstanding loans to SMEs in H1, and lower the loan rates for SMEs from the level in the previous year. Policy banks will receive a special quota of RMB350bn for extending cheap credit to SMEs and the private sector.
On targeted tax cuts, the value-added tax (VAT) will be exempted for small-scale taxpayers in Hubei province between 1 March and end-May, while the VAT rate for small-scale taxpayers outside Hubei province will be lowered from 3% to 1% over the same period.
In addition, Beijing pledged a forceful implementation of lowering electricity prices for industrial and commercial businesses (excluding high energy-consuming industries) by 5%, and encouraged local governments to reduce urban land use taxes to support landlords' rent cuts for individual businesses.
We expect more policy easing measures…
As COVID-19 is not yet under control and business resumption continues at a slow pace, most SMEs have been severely hit. We expect Beijing to further ramp up its policy support for SMEs and low-income individuals. We also expect some other easing measures in coming months to boost final demand and stabilise market sentiments:
We continue to expect Beijing to provide local governments with more flexibility in easing some tightening measures in their local property markets. In recent days a few banks have reportedly eased their minimum downpayment ratios for new home purchases in some cities. However, we think it unlikely that Beijing will launch another round of big stimulus packages to boost nationwide property demand like it did in H2 2015 after the stock market crisis.
We expect Beijing to ramp up investment in infrastructure during and after the fight against the virus, but the scale is unlikely to be massive owing to tight financial and fiscal conditions.
We expect Beijing to roll out some policy stimulus measures to stabilise auto sales, such as cutting auto purchase taxes, encouraging more cities to ease quota restrictions on vehicle licenses, and providing subsidies for the replacement of old cars.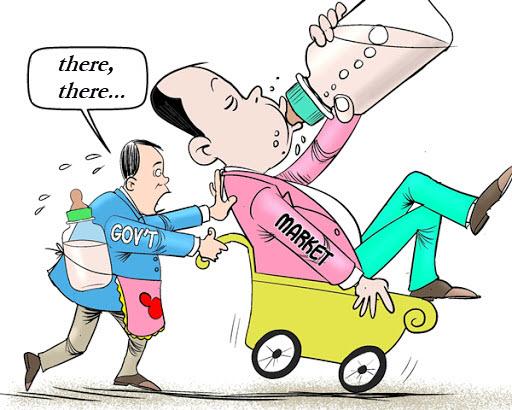 However, it seems unlikely that Beijing will roll out another big round of stimulus packages because:
1) the room for policy space is limited after years of stimulus and rapid accumulation of debt;
2) current account balance is worsening while foreign debt is on a rise;
3) CPI inflation may remain elevated above 5% y-o-y in H1;
4) conventional stimulus to boost investment and consumption demand may not work well amid the virus outbreak;
5) we expect a natural V-shaped recovery following the containment of the epidemic, thus adding too much stimulus could lead to an overheating. After the containment of COVID19, we expect Beijing to gradually taper off some easing measures, with no repeat of the RMB3.6trn of the PBoC's pledged supplementary lending (PSL) money, which was used for the property sector in low-tier cities between 2015 and 2019.
*  *  *
And so, while Goldman continues to believe that Chinese investors will look through weak current demand due to Xi's policy put.
The question is – what's already priced in for Chinese markets? It appears a lot…
One glance at the chart above and it's clear that the support for Chinese stocks has been unprecedented.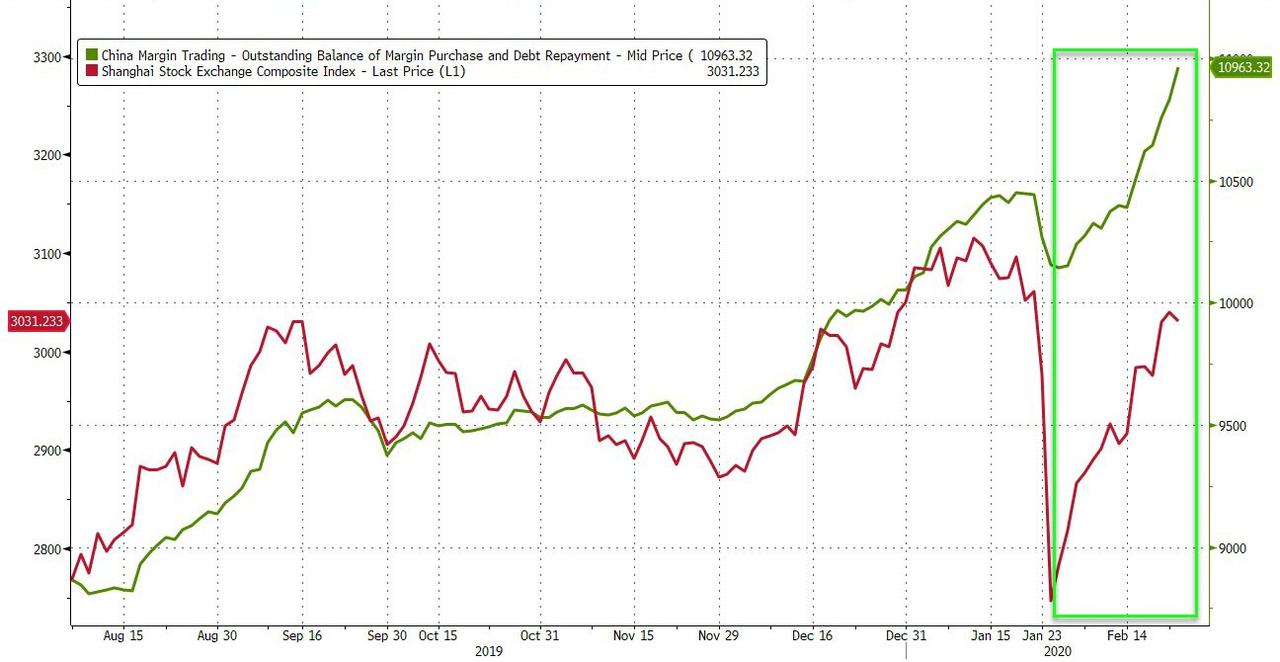 And all driven by re-leveraging!!??
That can't end well, no matter what Xi says or does. However, as Goldman suggests, in its always-a-silver-lining manner, "we know demand is bad now, it's the 2nd derivative that matters."
But, as we noted earlier and Nomura confirms, markets may be significantly disappointed as "big stimulus" is more than priced in… and is likely to be absent from CCP policy statements as they try to juice confidence through fabricated case/death counts.
via zerohedge